JUNE 2018
On Wednesday 6th June our A and B teams both travelled to Portavogie for their annual tournament. 4 wins from 4 for the A team in our group games, including a 2-0 victory over eventual winners Ballywalter, saw us safely through to a semi-final. The semi-final was a tight encounter and despite us having the bulk of possession and enough chances to win the game twice, we bowed out 1-0 to Academy Primary, Saintfield. Our B team had an equally impressive day with an unbeaten run of 2 wins and 3 draws which saw them through to the final of their competition. Here they met Carrowdore PS A team and conceded their first goals of the day in a 2-0 defeat. It was a marvellous effort nonetheless.
MAY 2018

FOOTBALL TOURNAMENT
Our first ever girls football team took to the pitch last week at Clandeboye Park, Bangor in Jamie Mulgrew's annual tournament for local primary schools. The girls, captained by Jasmine Graham of Linfield Ladies, went down 1-0 in their first game to eventual finalists Grange Park. A draw with Ballymagee followed and the tournament was rounded off with a great performance against Sullivan Prep. Despite going down 1-0, the girls created lots of chances and had noticeably grown in confidence. This was perhaps best summed up with Molly Bailie's performance with hard tackling and strong defensive clearances. Player of the tournament was Molly Bailie.
Our boys and Jasmine were up next in the afternoon. Group game draws against Crawfordsburn, St Malachy's and Grange Park meant that we did not progress to the semi-finals, despite being unbeaten. The move of the day came in our second match. With seconds on the clock and 1-0 down, Harley Cameron threw himself in the way of a superb goal-bound strike. The ball landed at the feet of the opposition striker who picked his spot well from close range only to see an outstretched Jasmine Graham claw the ball wide with an exceptional save. The ball broke to Caden McKee who then started a superb counter attack with a strong run and pinpoint pass to Calum White. Calum steadied himself and showed great composure to place the ball beyond the opposition keeper. A second after the ball hit the back of the net, the referees whistle sounded for full time. A great way to earn a point. Player of the tournament was Calum White.
MAY 2018

P7 NETBALL AT ROCKPORT SCHOOL
On Monday 14th May, we shook off the tiredness of our Greenhill residential and took part in our first netball tournament of the year at Rockport School in Holywood. The team had only played a handful of matches this year but our performances had improved every time so we were quietly confident that we could compete amongst the best teams in Northern Ireland.
We played three games in total and we were excellent throughout. We lost our first game narrowly to Sullivan B but we performed very well and were unlucky to lose. Our second match ended in a victory over St Comgall's Primary and the girls were fantastic throughout the whole game. Our last match pitted us against Bangor Central Integrated Primary and we ended up losing to a fantastic and experienced team. Our girls never gave up and their attitude was excellent, even though we were under such pressure.
We all enjoyed our first tournament of the year and will hopefully be playing more matches before the end of the term. Well done to Molly, Jasmine, Lauren, Frankie, Emily, Ellie, Tilly and Louise who performed so well throughout. A big thank you goes out to our assistant coach, Ryan, who was a very encouraging presence and our fantastically committed coach, Mrs Lucas, who has worked with the netball squad tirelessly all year. Player of the Tournament was Ellie Goggins.
April 2018

Football League


After finishing 2nd in the league table, we went into the league semi-final in confident mood. However, a combination of nerves on our part and a hard working Kilcooley team meant that the game finished goalless. The dreaded penalty shootout followed and despite two classy saves from Jasmine, we, rather uncharacteristically, missed from the spot 4 times in a row and Kilcooley progressed. Up next for us was the third place playoff where we met St. Finian's. A super first half strike put the Newtownards team 1-0 up which was cancelled out in the second half with a controlled finish by Harvey. With the game ending in a draw, a second penalty shootout was required. This time we despatched 4 of our 5 spot kicks and Jasmine made 2 excellent saves to give us victory.
A hard lesson to learn for the team who will aim to use the experience to go a step further next time.
March / April 2018

On Thursday 22nd March the school team took on Kircubbin Integrated at Abbey Villa. There were very few chances to speak of in a game played in poor weather conditions. The game was defined by 2 excellent saves. One at the beginning of the match that kept out a speculative long range effort from Caden and the other towards the end of the game by Jasmine who flung herself acrobatically to her right hand side to keep the score at 0-0.
Our most recent league fixtures on 12th April produced convincing wins against Alexander Dickson and Carrickmannon. The school team have now qualified for the semi-finals of the Ards area primary school league where they will play Kilcooley Primary School from Bangor. Having won and lost against Kilcooley already this year, the game is sure to be an exciting encounter!
March 2018
2 games and 2 decisive wins
7-1 vs West Winds and 4-0 vs Carrickmannon. Two great performances...and a debut and goal for Zach who is the youngest player to ever represent Millisle in league football.
March 2018

Tag Rugby Blitz
On Friday 9th March, the school took part in a tag rugby competition at Londonderry Park. The team was a mix of P6 and P7 girls and boys, many of whom were playing tag rugby competitively for the first time. The team played three matches overall and were very impressive in all of them.
The first match pitted the team against West Winds Primary School. We were worthy winners as we won by 7 tries to 1. The second match was a spirited affair against Portaferry Integrated Primary School. After an even game throughout, two late tries from Brandon and Jasmine secured an 11-9 victory. Our final game was against our peninsula rivals, Kirkcubbin Integrated Primary School. After 14 minutes, we ran out as 8-4 winners over a very solid side.
A huge congratulations to the children who took part and played spectacularly throughout the competition and thank you to the parents who came to lend their support to the team.
A week later on the 13th June our footballers were in action again. With Calum and Harley missing from the squad, we were always going to be up against it playing against the larger Ards area schools. We had an impressive day all the same which saw us draw 5 games in a row, any of which we could have won with more luck in front of goal. We finished the day going down 1-0 to an excellent Newtownards Model side who had blown every other team away in the group games. It was a spirited way for our P7s to say goodbye to the Millisle P.S. jersey. A special mention must go to Brandon Kirk who was a class above the rest on the day and was surely the player of the whole tournament.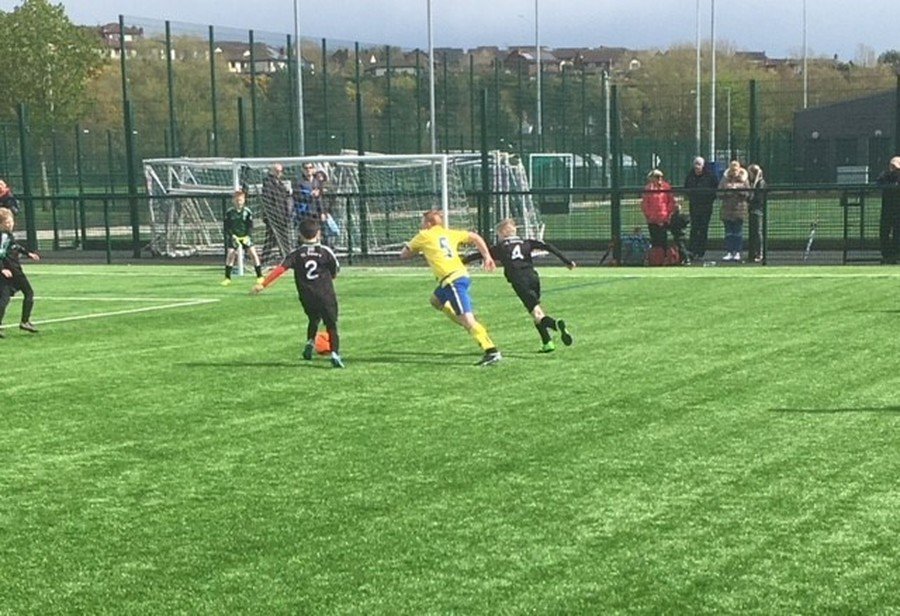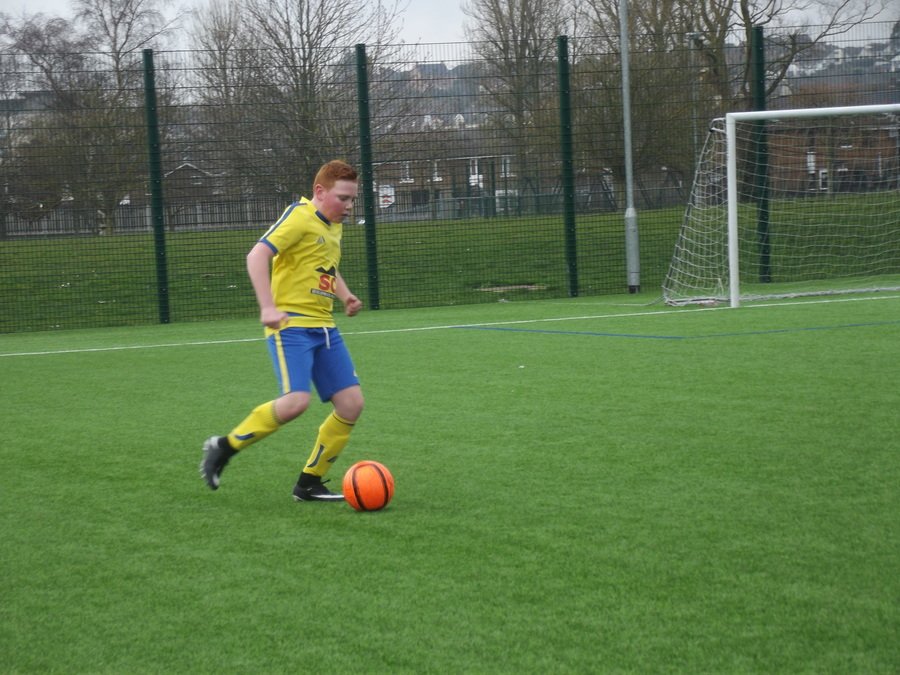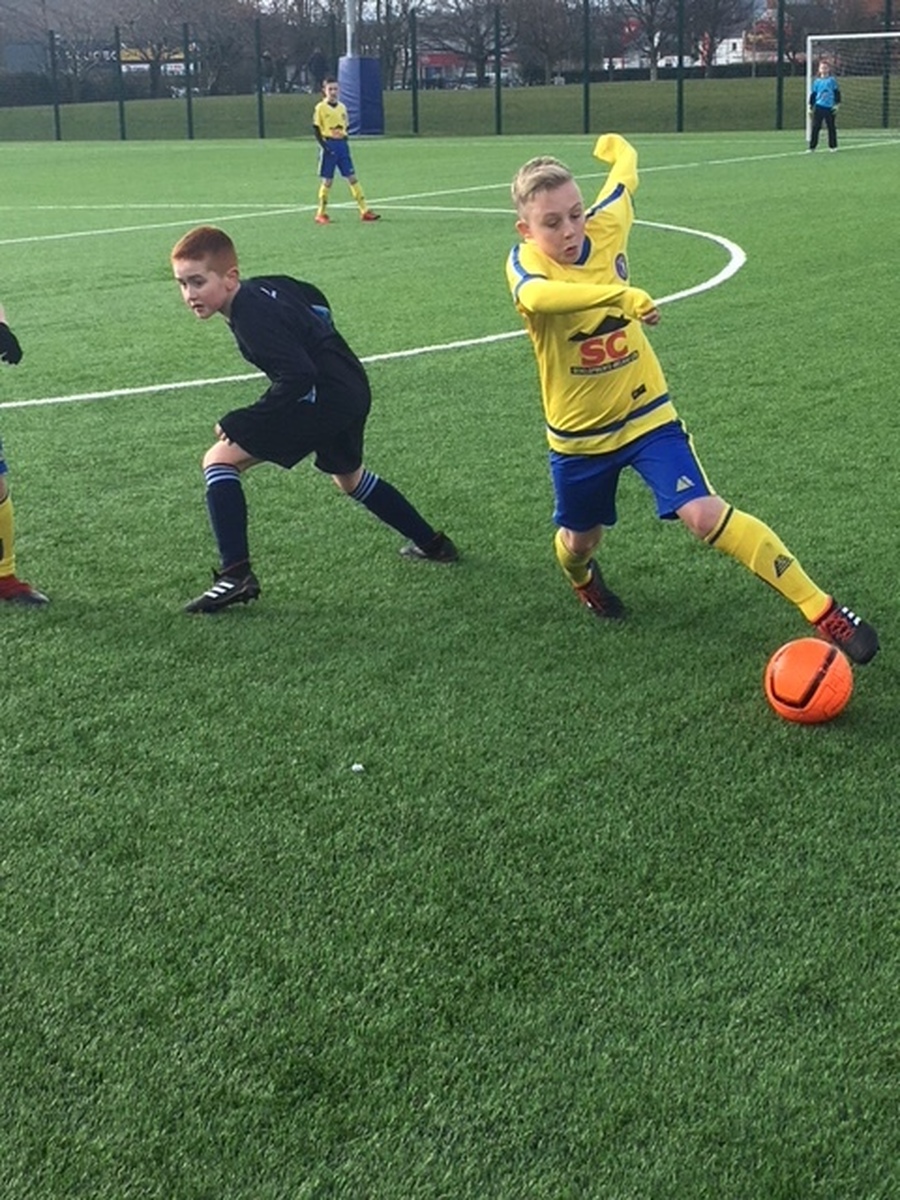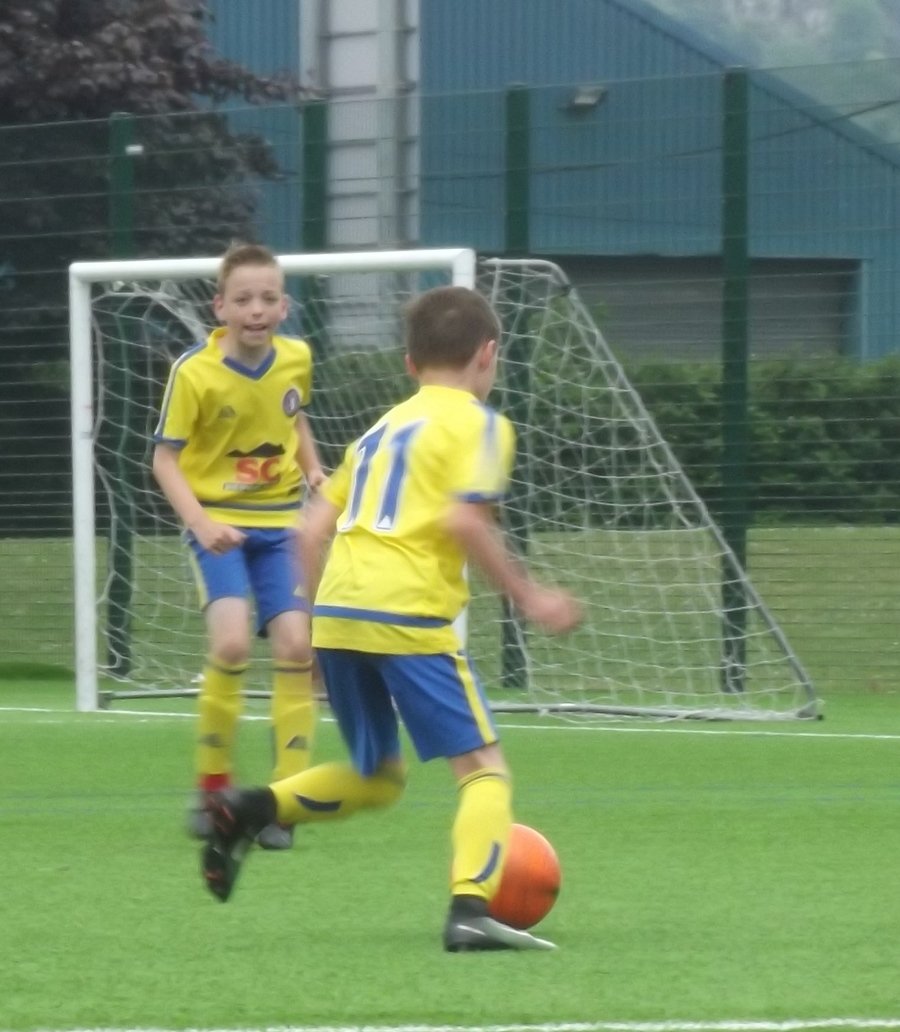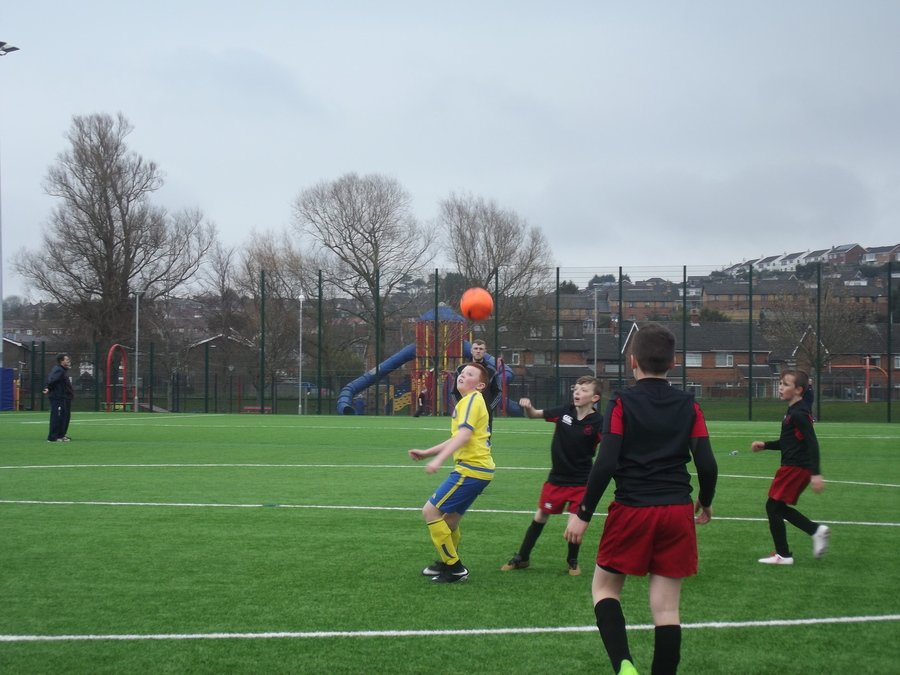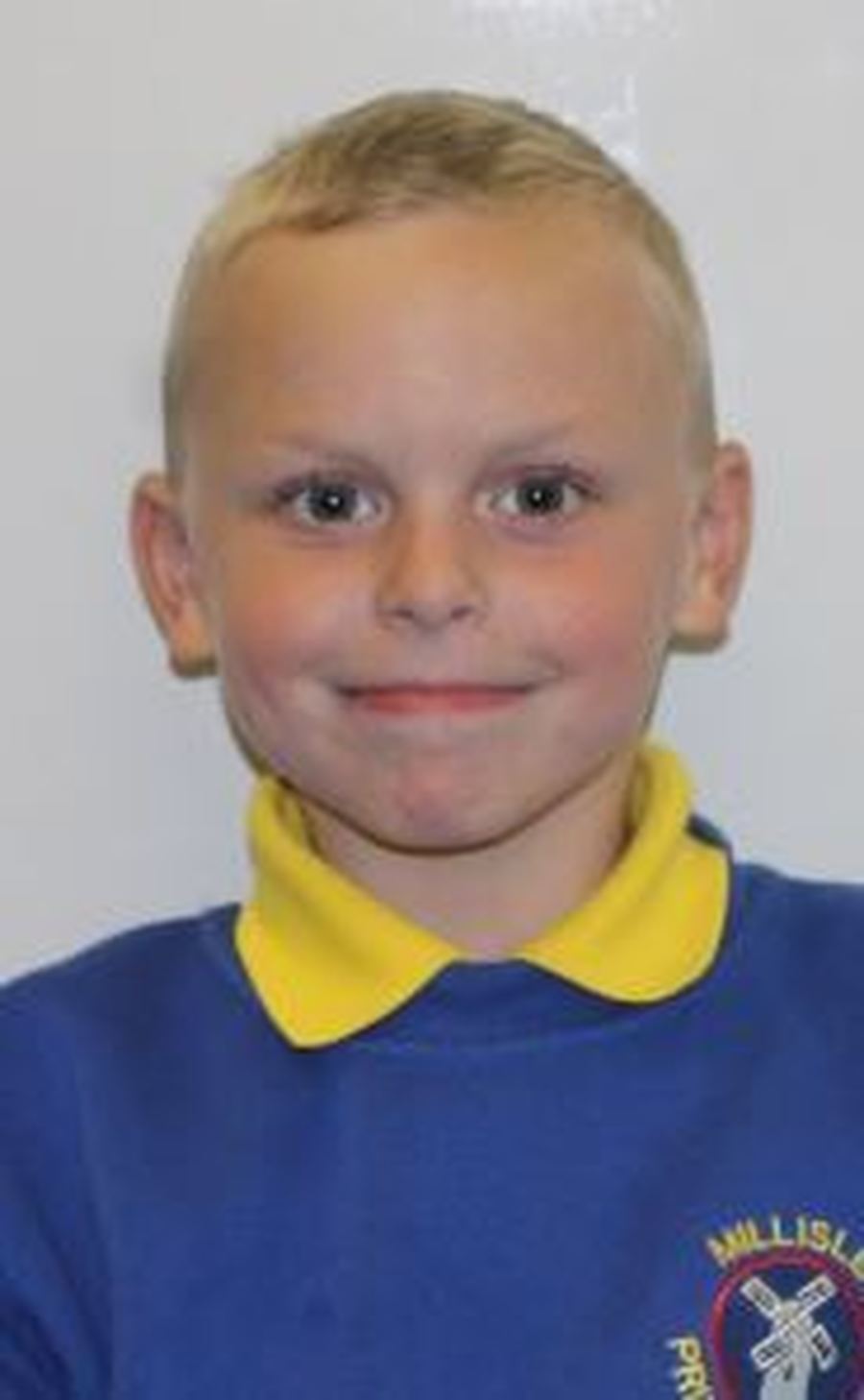 March 2018
Netball Friendly Games at Millisle
There were wins for Towerview A and for Millisle B Teams.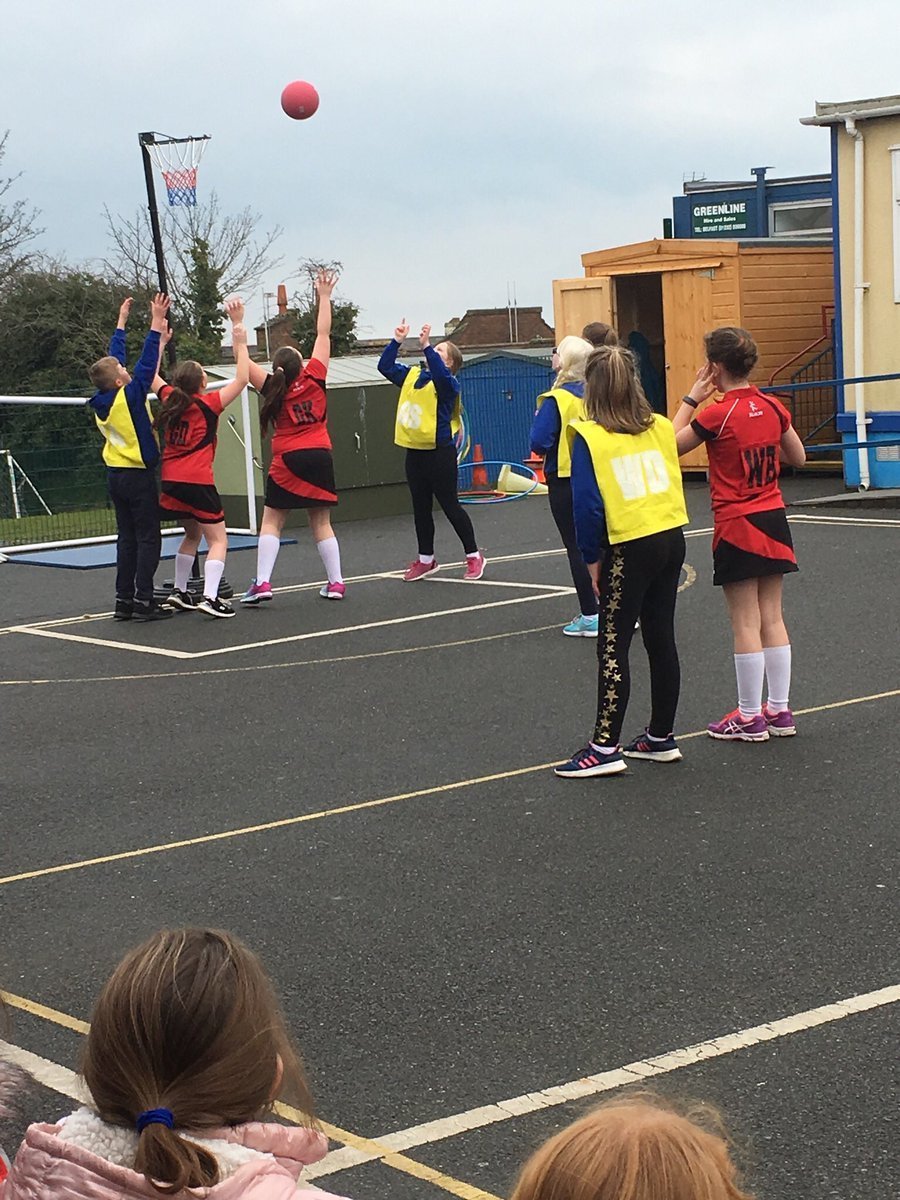 February 2018

NDAC Cross Country
Congratulations to P6 pupils Riley and Ellie who took part in the NDAC cross country last weekend!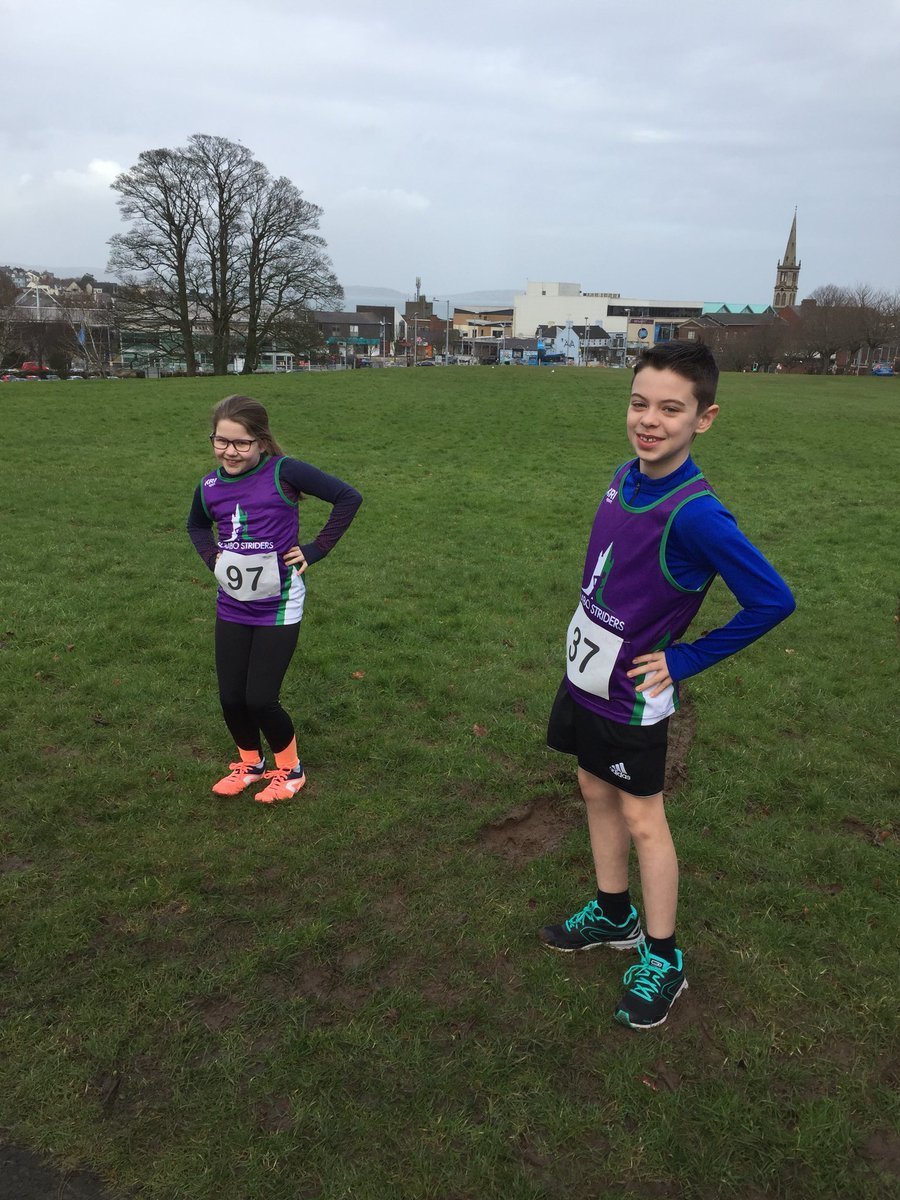 February 2018

FOOTBALL

Victories over 1st and 2nd placed teams…
February's league fixtures saw our school team take on Kilcooley and St. Finian's at a cold Londonderry Park. Going into the Kilcooley game, the league leaders were unbeaten with a perfect 30 points from 10 games. A tight game ended 1-0 to Millisle, the goal coming from a perfectly stuck free kick from Brandon.
The second game of the afternoon was against St.Finian's who had previously beaten us 3-1 in the reverse fixture. This time, the score line was the same but Millisle came out on the right side with a 3-1 victory. First half goals from Calum and Harvey were followed up in the second half with an incredible strike from distance from Caden which struck both the bar and a post before ending up in the net.
Squad: Jasmine, Harley, Charlie, Harvey, Brandon, Caden, Mikey, Caleb, Bradley Calum.
| | | | |
| --- | --- | --- | --- |
| | SCHOOL | PLD | PTS |
| 1 | Kilcooley | 12 | 33 |
| 2 | St. Finians | 12 | 24 |
| 3 | Millisle | 7 | 15 |
| 4 | Alexander Dickson | 8 | 9 |
| 5 | Carrickmannon | 8 | 6 |
| 6 | West Winds | 9 | 0 |
January 2018
Netball friendly vs Kilmaine

On Tuesday 30th January our netball team took on Kilmaine P.S. in Bangor. This was the netball team's first fixture of the year and indeed, just their second fixture in recent years. The team have been working hard behind the scenes with Mrs Lucas and this hard work paid dividends. The game was organised into 4 'mini matches' where our team took on 4 different Kilmaine teams over a short format. The team managed to win 3 of the games while drawing the other. A special mention to Louise who demonstrated accurate shooting under pressure, scoring the majority of our goals.
Squad:

Louise, Emily, Molly, Megan, Ryan, Bella, Tilly, Lauren, Frankie.
January 2018
Millisle P.S. victorious at Regent House Tournament

Thursday 7th December saw Regent House 6th form students host a primary school football tournament as part of their A-Level PE coursework. The local grammar school provided 6 schools with transport to and from the tournament in what proved to be an excellent day of sport which was not dampened by the poor weather conditions.
Millisle Primary kicked off the day with wins over Greyabbey P.S. and Kircubbin Integrated. This was followed after the break with a draw against Carrowdore P.S. and a hard fought 1-0 victory against Portavogie P.S. Millisle sealed their place at the top of the mini league table with a 2-0 victory over hosts Regent Prep in their final group game.
An entertaining final against 2nd placed Carrowdore was to follow. The previous group game encounter showed that the teams were evenly matched. An early goal for Millisle settled nerves and allowed them to dictate much of the play. A wonderful penalty save from the Carrowdore 'keeper ensured the game was always tight but eventually Millisle P.S. prevailed to be crowned tournament winners' on the day.
Thanks go to the pupils of Regent House who provided both wonderful, warm hospitality and a well organised tournament on the day.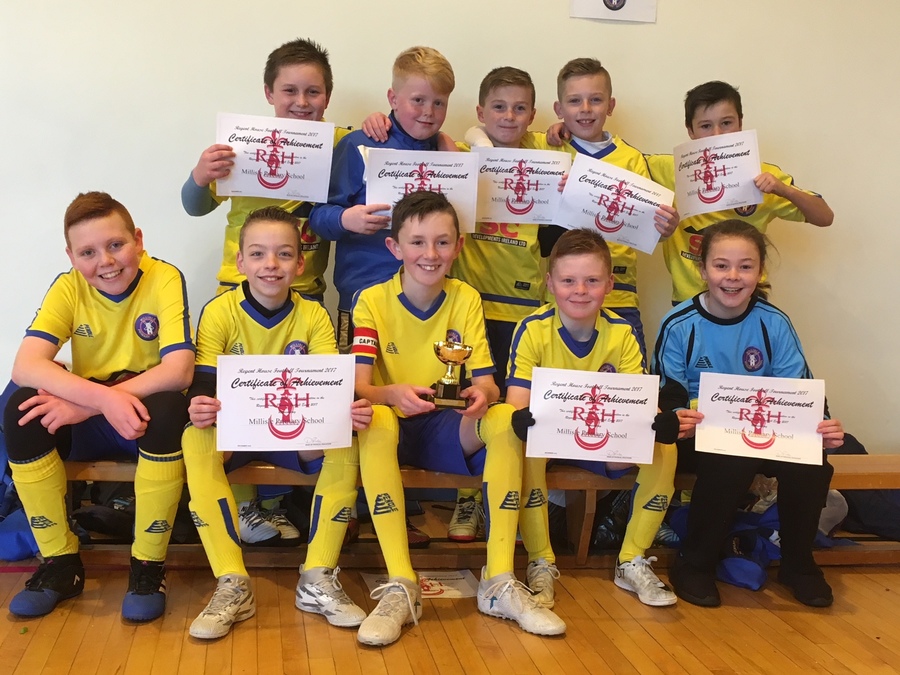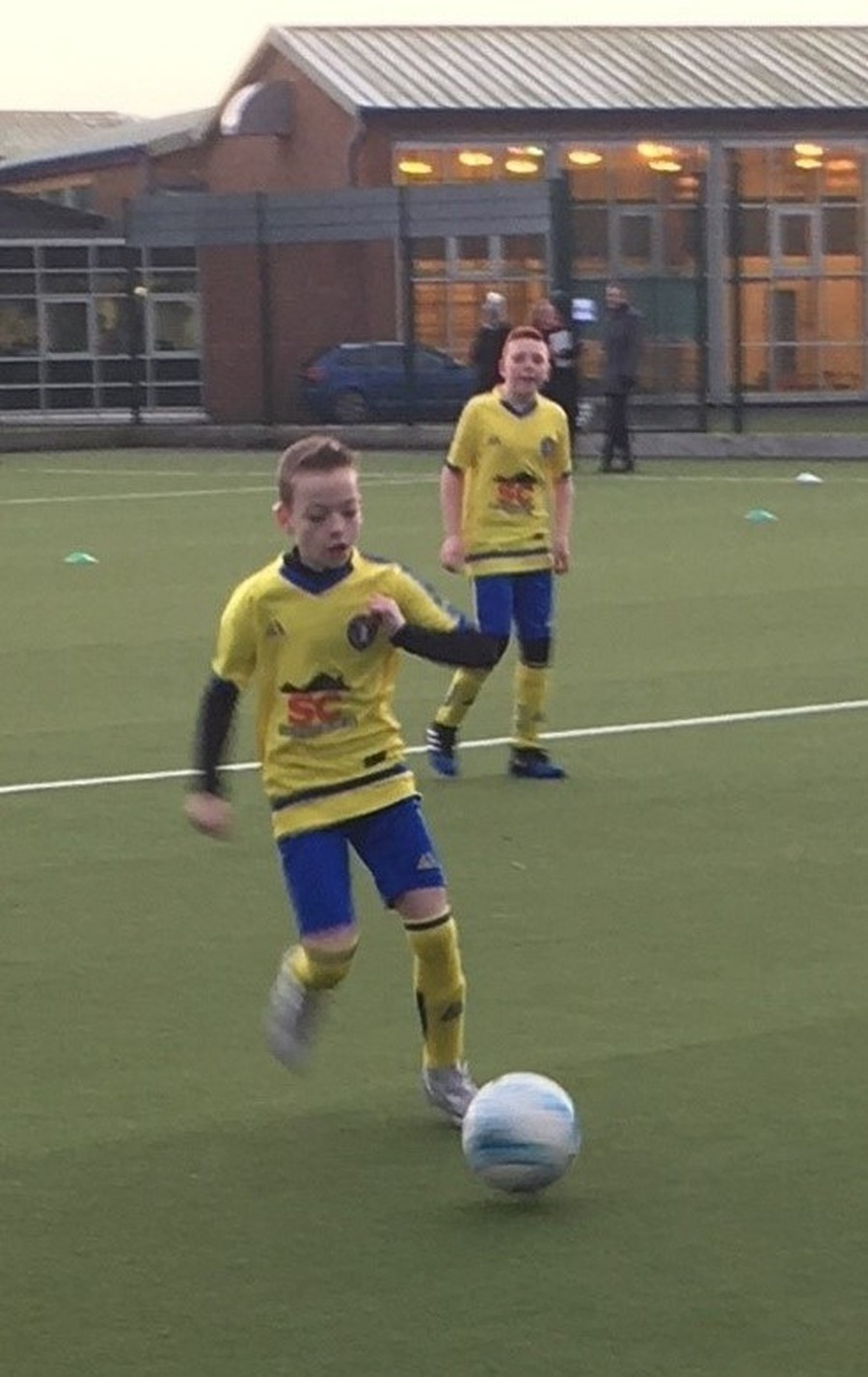 December 2017
Books and Boots...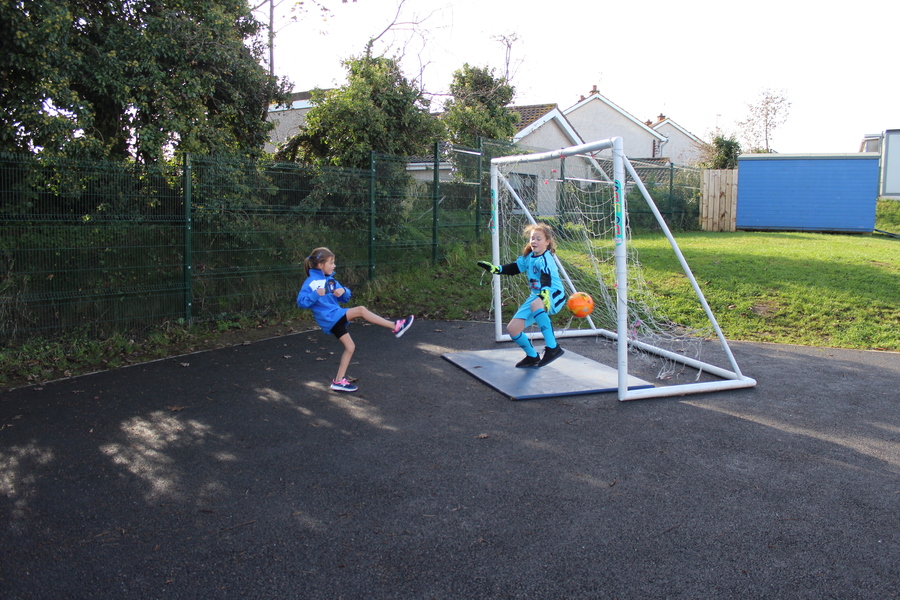 The village of Millisle has a proud footballing tradition, with its local team, Abbey Villa F.C. an ever-present Amateur League heavyweight over the past number of decades. The local primary school has firmly joined in the act by harnessing the appeal of the beautiful game to boost pupil interest levels and academic success.
The school's team performed admirably last year, despite not boasting a single P7 pupil in the entire squad. This year, they aim to keep up the good work and have been boosted by two very generous companies that have close links to the school. Firstly, SC Developments headed up by former pupil Stephen Chapman, supplied a brand new kit to the team. Stephen was part of the 1985 Millisle Primary team who were Northern Primary School Champions! Additionally, our pupils have also been gifted a set of wonderful Joma Warm-up tops by McGimpsey Removals. Gillian McGimpsey works tirelessly as a General Assistant within the school and her family's passion for football is seen through her keen interest in supporting our boys and girls. Now kitted out beautifully, the team are keen to get their season started having recently joined the Ards and District Primary School League.
Millisle Primary School has also benefited this year from support from football's governing body in Northern Ireland. IFA coach Martine Power delivers hugely popular PD sessions each Monday with our P1 to P4 classes.
Martine introduces the game to our youngest boys and girls through interesting games, building teamwork and fundamental movement.
The school is also delighted to have been able to extend its 'Books & Boots' initiative beyond Key Stage 2. The scheme, designed to tackle the trend of underachievement in literacy, has been hugely successful. Pupils are required to meet reading targets within the Accelerated Reader program and if they do, they are rewarded with a weekly high quality football coaching session with Jamie Mulgrew, captain of Linfield F.C. and owner of Supreme Sports Coaching. Last year, every single participant in the scheme met a demanding reading target. Such is the success of the scheme and the positive motivation it provides; the school has now started 'Junior Books & Boots'. A range of pupils from P3 and P4 have now also been chosen to take part in the scheme that will foster their love of reading and love of the world's most popular sport for many years to come.
The growth of women's football is also having an impact within the school. Our school's goalkeeper also plays for Linfield Ladies and is a key member of the KS2 version of 'Books and Boots' where she is able to pick up top tips from one of her footballing heroes. Additionally, we have female representation within the junior version of the scheme and see the rise in popularity of the women's game as a key area to promote within the coming years.
November 2017

Disappointment in the League…
The school football team continued their league campaign with fixtures against Kilcooley and St Finians. The games against the first and second placed teams in the league both ended in defeat for us. The game against Kilcooley saw us start slowly and fall 2-0 behind very early on. Despite a great showing in the second half, the score line remained unchanged. Our second match against

St Finians was the reverse. We started very brightly and made numerous chances but despite this, we fell behind against the run of play and never recovered. The game ended 3-1.
Despite the disappointment, our boys will pick themselves up and be ready to put things right on the pitch in the next round of fixtures.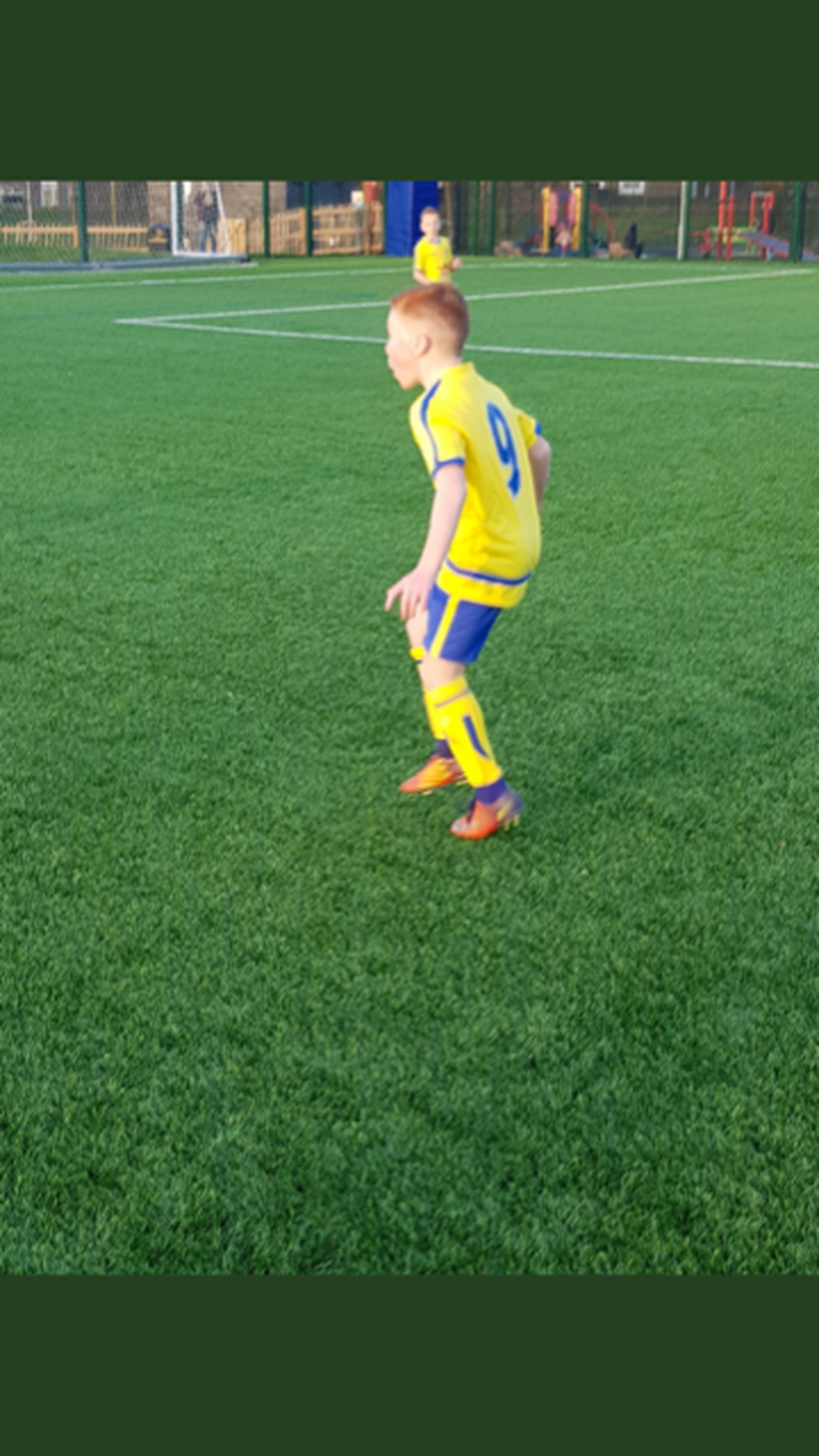 September 2017
Our new football tops...
A very big thank you to Mr and Mrs Stephen McGimpsey who have sponsored our new training tops. You are very kind and we all love them!